KC Health Collaborative: Bringing the KC Community Together to Address Social Drivers of Health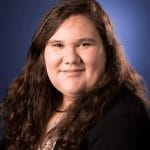 FHC knows that health system transformation starts with bringing stakeholders together to identify shared priorities and work towards measuring progress, while also using data to inform these conversations. FHC is pleased to support KCHC in its development of a Community Information Exchange and Health Equity Learning and Action Network.
___________________________________________________________________
Like many regions across the nation, Kansas City leaders are coming together to address the social drivers that lead to systemic inequalities in health access,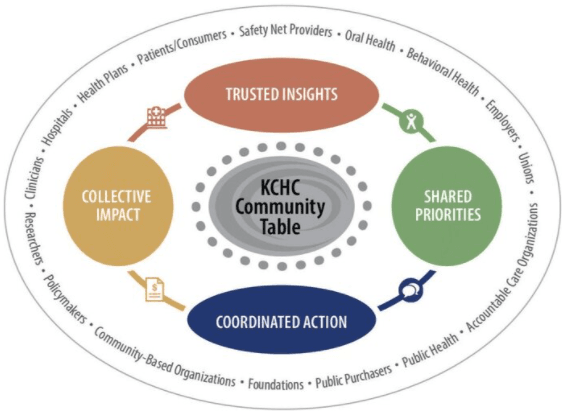 treatment, and outcomes. Much of this work is occurring through the KC Health Collaborative, (KCHC) a regional health improvement organization focused on catalyzing improvements in health and care delivery. KCHC serves as a common, community table, for community-based organizations, physicians, health systems, payers, employers, and state and local public health organizations.
Like many communities, the Kansas City region lives with the consequences of many decades of racist policies and systems. As stakeholders came together, they decided to focus KCHC's efforts on the drivers of health, with a particularly deep focus on health inequities.
KCHC Is currently centering its efforts on two initiatives:
Building a Community Information Exchange (CIE4KC)
Launching a Health Equity Learning and Action Network (KC HE LAN)
Building a Community Information Exchange (CIE4KC)
KCHC has begun exploring and planning the process to develop a Community Information Exchange to seek more effective, efficient, and sustainable ways to address the drivers of health in the Kansas City region. So far, 15 organizations representing seven hospital systems, a health plan, an accountable care organization (ACO), a public health department, a state health agency, and four community benefit organizations (CBO) , have signed on to support the initiative to engage in work with the following goals:
Work collaboratively to develop a community model that facilitates efficient and effective referrals to appropriate resources
Create a vetted, comprehensive directory of community-based organizations whose services, eligibility requirements, and real-time capacity is known and monitored
Coordinate services for referred individuals to increase the likelihood of support and provide service information back to referring entities for a closed-loop system
Track and monitor referrals and the provision of services, resources, or support over time, which can be used to demonstrate impact, improved outcomes, and achieved care goals
Develop population level insights about community needs
Create a pathway for more sustainable funding for community-based organizations
This work comes after KCHC community stakeholders expressed significant interest in working collaboratively across heath care and community-based social service organizations to take a comprehensive approach to health and healthcare in the Kansas City region.
Social Determinants of Health Joint Workgroup for Cross-Industry Collaboration: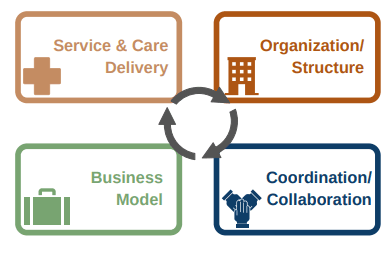 With assistance from FHC, KCHC formed a joint workgroup addressing social needs to improve health. While community-based social service organizations have historically been the primary providers for many needs associated with social determinants of health, that industry is severely lacking the infrastructure and funding associated with the clinical side of health care. To acknowledge this, the Collaborative first facilitated a series of conversations with clinicians and social service providers to solicit insight and guidance from the perspectives of those closest to the region's underserved communities. As regional efforts in information sharing, network development, referral systems, and increased coordination among medical and social service providers advance, the diverse workgroup provided a framework highlighting key themes and shared goals that rely on innovative data sources, like the CDC's Social Vulnerability Index (SVI).
Innovation Summit to Understand Regional s Needs and Explore Models:
Members of this workgroup also participated in KCHC's Innovation Summit this past spring. This event brought together leaders from across the nation to showcase ways in which health care and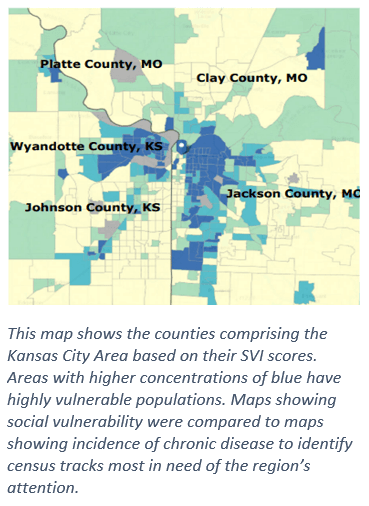 social service organizations are working to address social determinants of health through innovative care and service delivery, that bridges health and social needs. The summit provided an opportunity for organizations currently working in in the region to show how they have advanced models which address social determinants, while also providing a perspective on the challenges and opportunities associated with this work. Representatives from collaborative, comprehensive community efforts from across the nation were also present, giving Kansas City leaders in care a look into potential models to explore. This event not only provided organizations an opportunity to showcase what they are doing for the Kansas City region, but also highlighted the need for additional collaboration and infrastructure..
Launching a Health Equity Learning and Action Network (KC HE LAN)

KCHC's other and complementary focus is addressing racial and ethnic disparities at all levels through the KC Health Equity Learning and Action Network (KC HE LAN). This initiative has brought together over 50 organizations, including hospitals, health plans, physician organizations, FQHCs, multiple public health departments, behavioral health clinics, and community-based organizations (CBOs), to create strategies to remove barriers to optimal health and wellbeing for all. This collaborative force will provide participating organizations with the tools they need to make meaningful changes to the systems they are part of through:
Learning sessions to provide tools, frameworks, and approaches to foster anti-racism and health equity through performance and quality improvement
Coaching and guidance to build capacity for continued work
Interaction with peers from other organizations in the Kansas City health sphere to collaborate and support further capacity for anti-racist, health equity focused work
Sharing resources, lessons learned, and actionable data supporting practices that make health care more equitable
Stated commitment to IHI's Health Equity Principles and the mission, vision, values, and goals of the KC HE LAN
To facilitate this meaningful work, KCHC has partnered with the Health Forward Foundation and The Institute for Healthcare Improvement, both organizations that understand the Kansas City Region's history and the steps forward to creating a more equitable environment for proper health care.
Officially launched in early 2022, this multi-sector, cooperative strategy will unite the Kansas City region's health ecosystem, including health systems, FQHCs and CBHCs, physicians, payers, employers, public health departments, and CBOs to "collectively address the conditions that create barriers to optimal health and well-being for all." The KC HE LAN aims to provide a home for a forum discussing community-wide engagement and a shared regional agenda. This strategy aims to also create a space for the community to seek further education, training, tools, and expertise to make meaningful changes to systems, policies, and structures to reduce and eliminate disparities in health care delivery and realize measurable improvements in health outcomes. By leveraging the collective efforts of the KC region's health care and community leadership, KC HE LAN hopes to catalyze and sustain equitable health outcomes through equity-centered and culturally responsive health care for all who reside in the area.
__________________________________________________________________________
Interested in learning more about the KC Health Collaborative? Visit their website or reach out to FHC's Senior Consultant, Mary Jo Condon, who has helped facilitate KCHC's work since its inception.