Access to telehealth services is expanding; APCDs can tell us whether it worked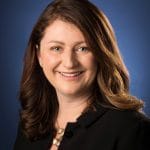 In response to the COVID-19 pandemic, the Centers for Medicare and Medicaid Services (CMS) have expanded payment for telehealth visits so that all beneficiaries, regardless of diagnosis, can receive a wider range of services from their doctors without having to travel to a healthcare facility. Around the nation, some state Medicaid agencies and commercial payers are following suit. This blog post will discuss how to find these claims in your APCD.
How can I find telehealth services in my APCD data?
New policies at Medicare: The table below shows three types of virtual services now paid for by Medicare. Note that Medicare is using telehealth visit codes that overlap with the CPT codes used for traditional visits. CMS is asking providers to use the telehealth place of service code (02) to distinguish visits provided via telehealth versus visits provided in other care settings. Therefore, it will be important to include POS in all analyses including these codes and adjust which claims are included to reflect the purpose of the analysis.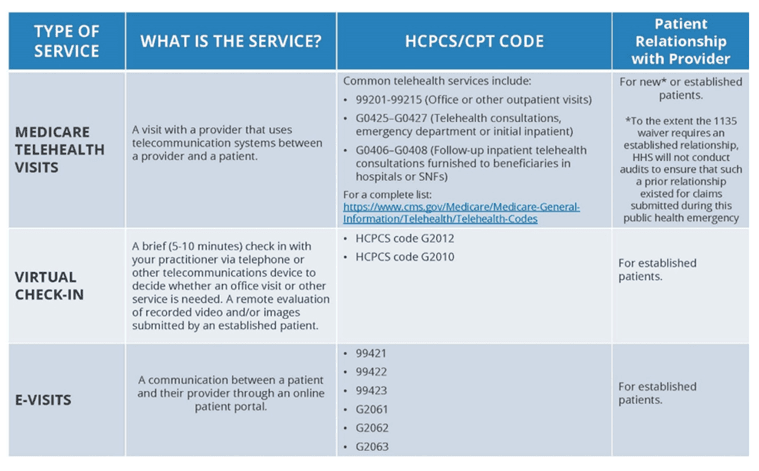 Other payers: Medicaid agencies and commercial payers often base their coding and reimbursement policies on Medicare but not always. Applying these Medicare rules to your full dataset may not offer a complete view of current practices. Reach out to your data contributors and ask them to forward you any communications they have sent to providers regarding changes in telehealth coding or reimbursement related to COVID-19. For the future, ask to sign up for the alerts your data contributors send to providers to stay informed on all coding and reimbursement changes. Below are links to a few payers polices on telehealth services during the COVID-19 pandemic.
Why are these changes occurring now?
Medicare, Medicaid, and the Children's Health Insurance Program (CHIP) have the ability to temporarily waive or modify certain requirements to ensure access after a federal disaster or emergency is declared.
Under this 1135 waiver, Medicare will pay for office, hospital, and other visits furnished via telehealth across the country and including in patient's places of residence.  A range of providers, such as doctors, nurse practitioners, clinical psychologists, and licensed clinical social workers, will be able to offer telehealth to their patients.  Medicaid agencies also can make modifications through this waiver. Those decisions are left to the states. Therefore, check locally and be on the lookout for these changes.
Prior to this waiver Medicare could only pay for telehealth visits on a limited basis:  when the person receiving the service is in a designated rural area and when they leave their home and go to a clinic, hospital, or certain other types of medical facilities for the service.  Other changes such as payment for virtual check-ins and e-visits have occurred over the last few years.
Flexibility with Cost-Sharing
Additionally, the HHS Office of Inspector General (OIG) is providing flexibility for healthcare providers to reduce or waive cost-sharing for telehealth visits paid by federal healthcare programs. State Medicaid and some commercial health plans are asking providers to waive cost-sharing for telehealth and other services including urgent care. Looking for trends in cost sharing before and after the crisis and whether those changes coincided with changes in utilization could be another interesting analysis.
Helpful resources
CMS Fact Sheet on Changes to Telehealth Policies
CMS Frequently Asked Questions on Changes to Telehealth Policies
AMA Quick Guide to Telemedicine in Practice
AMA Telemedicine Coding Flowchart
For more information or assistance performing these analyses, contact Mary Jo Condon at [email protected].
Updated March 31, 2020